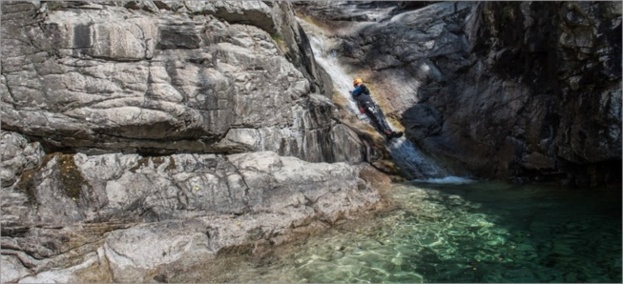 We organize day-long canyoneering outings on a daily basis in Corsica, discovering the regions of Ajaccio, Corte, or Propriano: discover the canyons of Richiusa, Verghellu, Zoicu and Baracci!

Know that no jump is mandatory. You always have an alternative option. However, we remind you that canyoning is a sport of white water, to know how to swim is thus compulsory.

We provide everything you need for your descent:
- Harness
- Helmet
- Wetsuit
- Backpack
- Waterproof totes

Canyoning shoes are available for rent: 5€ per person


What you need to bring:
- Swimsuit
- Sport shoes (not swimming shoes)
- One bottle of water per person
- One energy bar per person
One of the most well known canyons in Corsica, the Richiusa near Ajaccio allows one to experience all of the joys of canyoning. This descent is very pleasant, giving you all of what canyoning in Corsica has to offer: Diving, toboggans, tyrolean traverse and rappels in a magical setting…

The Verghellu is one of the most complete and amusing canyons that Corsica has to offer. Everything is brought together so that the shared experience is fun while remaining accessible to everyone (initiation level canyons): dives, toboggans, rappel and a long tyrolean. This is a mountain canyon where the clear water will amaze those who love nature.

​
One of the most beautiful canyons on the island, it is well known for the variety of its terrain and for the emerald color of its water basins. The canyon of Zoicu is a must to discover. From the picturesque village of Soccia, this canyon offers a complete program with dives, tyrolean, swimming and rappel descents in river water of unforgettable colors.


It is hard to imagine there is a haven of freshness so close to the coast... And yet, this canyon offers everything you need to spend a thrilling and exciting day in the coolness of the Baracci river. Slides, jumos, zipline and rappelling will ponctuate your descent!