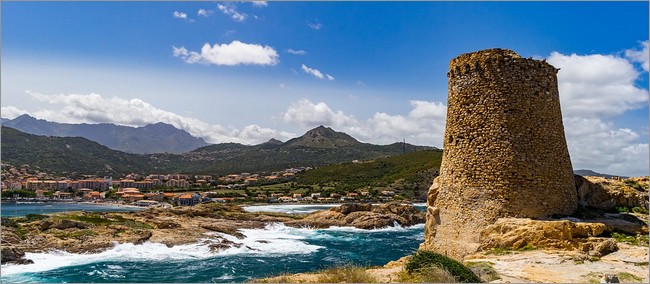 Corsica is a popular summer destination if you like to hike in the mountains or/and enjoy the sea life. By booking your trip early, you can choose the dates / departures that suit you best and benefit from attractive transportation rates. It is also much easier to book accommodation before and after your stay if required.
Corsica is a French island located in the Mediterranean Sea, between Italy and mainland France. There are 4 airports: Ajaccio, Bastia, Calvi or Figari.
During summer, there are several direct flights from many European cities, and some other companies offer connecting flights for those who travel from further away.

As a licensed travel agency, we can book flights to and from Corsica for you. However, we do not make this cheaper for you than if you order online. We therefore recommend our clients to book the flight tickets on their own.

You will find below the main direct flights from the UK to Corsica. Please note that these flights are not operated from and to the same dates. Check their schedule directly on the website of the company.

LONDON

London Stansted - Calvi with AirCorsica

Every Sunday from the 17th of May to the 27th of September

London Stansted - Ajaccio with AirCorsica

Every Thursday from the 30th of April to the 24th of September
Every Sunday from the 12th of April to the 27th of September

London Stansted - Bastia with AirCorsica

Every Thursday from the 30th of April to the 24th of September
Every Sunday from the 12th of April to the 27th of September

London Stansted - Figari with AirCorsica

Every Saturday from the 16th of May to the 19th of September

London Gatwick - Ajaccio with EasyJet
London Gatwick - Bastia with EasyJet
London Gatwick - Figari with EasyJet
London Heathrow - Bastia with British Airways
MANCHESTER

Manchester - Bastia with EasyJet
Manchester - Calvi with Flybe

BIRMINGHAM

Birmingham - Bastia with Flybe
SOUTHAMPTON

Southampton - Bastia with Flybe
You can reach Corsica from the French ports of Nice, Marseille or Toulon, but also from Italy. There are 3 shipping companies:
- Corsica Ferries
- Corsica Linea
- La Méridionale