There are probably as many good tips as hikers. This article below is not meant to be an absolute guide in terms of preparation and equipment for hiking, but a little help built on our own experience. We included some links to specialized articles for those who want to explore the topic in greater depth.


PHYSICAL PREPARATION FOR YOUR HIKE IN CORSICA

Corsican mountains have their specific features. "A mountain in the sea, no doubt, but a real mountain", wrote Michael Fabrikant in 1970, examining the possibility of creating a high mountain hiking trail, which finally became the legendary GR20 in 1972.
Although the height is moderate (the highest point is 2706m), the Corsican mountains often have the characteristics of high mountains (except glaciers): rocky and steep terrain, steep climbs, unstable climate, etc. It is very important that you have a physical preparation that matches the level of the hike you're going to engage in, to get the most out of your trek in Corsica.
Hiking equipment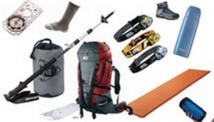 Choosing a good hiking gear is important to ensure your safety and comfort. The main criteria to take into account are:
Comfort
Resistance
Weight
Price
The 3 essential elements on which you must concentrate your "efforts" are your
hiking or trekking
shoes
, your
backpack
and your
rain jacket
("Gore-Tex").
1) HIKING/TREKKING SHOES
Shoes are the most important component of your hike. Their choice and their general condition (wear, aging) is therefore an essential element of the quality of your stay. Given the terrain in Corsica, we recommend high trekking shoes to protect your feet and ankles.
For
high mountain tours
(like GR20 for example), choose so-called "trekking" or "hiking" shoes, with intermediate stiffness (semi-rigid sole) for a maximum weight of 1500g per pair.
For less difficult tours
(less rugged terrain and lighter bag), so-called "hiking" or "walking" shoes (less heavy and with a flexible sole) are enough.
Do not come with new shoes. You must wear them on small walks before your departure, otherwise you risk of getting large blisters from the first day. Be careful of too old shoes stored years without being used. Glue and seams don't last forever; loosing your sole is unfortunately not so uncommon during hiking! And you know there are no sport shops in the mountains.
→ How to choose your hiking shoes
2) THE RUCKSACK
As for the shoes, the choice of your rucksack will depend on your hike:
-
For overnight stays in shelters or sheepfolds
, a bag of about 50 liters is necessary (because you have to carry a sleeping bag and some change of clothes). In addition to the weight (extremely variable) that must be taken into account, you have to pay a special attention to comfort: padded and adjustable shoulder straps, wide lap straps and chest strap. Try to avoid large side pockets, they often create excess weight and imbalance according to their filing.
- For stays without porterage
, a small rucksack of 30 or 35 liters is enough.
An effective porterage is about distributing your load in a good way. The straps must fit the shoulders closely, without putting a pressure on them and the load must be carried mostly by the basin; that is why a comfortable ventral strap is very important. The best way to determine if your rucksack is well adjusted is to fill it, and then try to adjust all the straps at best, including those at the top of straps allowing to press the bag against your back. Finally, try to avoid straps that wander everywhere.
The heaviest goods should be carried along the spine, to avoid lateral imbalances and not to alter the center of gravity. You must think about the distribution of your load: store at the bottom the things you won't use during the day (e.g. sleeping bag), and leave the things you need accessible (glasses, cap, etc.). Try as best as possible to balance your side pockets and adjust the compression straps. We often have a tendency to take too many things for our comfort. But keep in mind that you will walk with your bag on your back for 6 full hours.
​
To keep your belongings protected from the rain, make sure you have:
- a bivvy bag to protect your bag
- bin bags for your clothes
- a freezer bag for your papers and money
If you travel with your friends or family, try to divide some things up, like toothpaste, soap, medicines...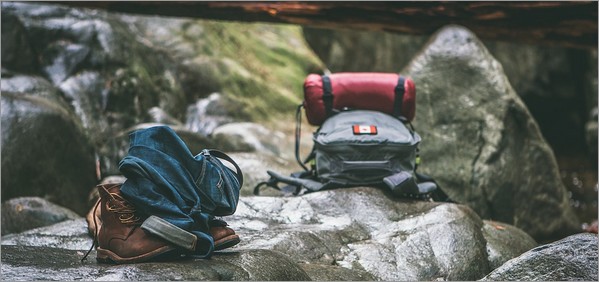 3) THE RAIN JACKET
The weather conditions in the Corsican mountains can be changing, and many hikers are often surprised by the bad weather even though their day began under a radiant sun...
A waterproof jacket is as essential as a pair of shoes or a backpack.
Take a breathable Gore-Tex jacket, that protects against rain while evacuating (more or less) moisture from your body.

Avoid both types of rainwear:
- Poncho: totally unsuitable for rough terrain (it can prevent you from seeing where you put your feet) and windy conditions (it will fly from all sides, Marylin Monroe style!)
- K-way type jackets: waterproof but totally preventing the evacuation of perspiration (you will end up getting more wet inside than outside!).


4) SOME USEFUL TIPS
One rule: avoid cotton t-shirts. They will keep the perspiration against your body, like a sponge, which will end up in heat loss and discomfort for you. There is an infinity of specialized clothes in synthetic fibers at all prices.
- A "camelback" allows a more regular hydration and avoids having to open their bag for that.
- Bowl, cup and small plastic cutlery are utensils that allow to better appreciate your outdoor picnics. Choose light ones.
- Well used hiking sticks can distribute up to 40% of the effort on the upper body. Here again, pay attention to the weight!
- Do not hesitate to test your equipment before your departure: it will ensure peace of mind during your stay!
A good pharmacy is part of each hiker's bag. Attention: you have to think of everything but without excess (weight and volume)... you don't fall sick every day! Medications and products should be easy to use and should not carry too many risks or side effects. Adapt it according to your personal pathology but also to the type of programmed activity. The small list below is consultative, the constitution of a pharmacy kit being the responsibility of each hiker:
- Sunscreen, lipstick
- Analgesic and anti-inflammatory balm
- Simple and double skin dressings in case of blisters
- Elastoplast band (imperative) in case of slight sprain or for muscle reinforcement
- An antiseptic
- Sewing kit and small instruments (safety pin, nail clippers)
- Your personal medications
Most frequent small injuries
- Joint pain, especially in the knees (knee pads and walking sticks can prevent or diminish them)
- Small sprains
- Lack of sleep due to less comfortable sleeping arrangements compared to each person's daily life
- Scratches and small abrasions