Summer has come to an end... Autumn is here, winter will come soon and if you are like me, you are already thinking about your holidays for next year !
You can improvise a hike, but you have to be organized for a whole trek in the mountains.

Since many years, the GR20 trail has become a must-see trek for mountain lovers. But going on the most difficult long-distance trail in Europe cannot be improvised!
This 16-day long trek requires mental and physical endurance as well as an adaptation to the moutain environment: camping, changing weather and basic food.

Here are some tips to prepare your trek through the Corsican mountains.


1 - Learn about endurance
To prepare yourself to hike for several days, there is nothing better than testing different activities, involving differents muscles and joints: biking, running, cross-country skiing, swimming, mountain hiking but also core building and stretching... Cross-training is ideal for increasing your strength and endurance.

During a trek, your back and shoulders are very much used: your backpack being more or less heavy (depending on your organisation for the trek, if you benefit from a luggage transfer between the accommodations or not), it's important to practice with a loaded backpack, maybe just for a day at the beginning, and then for several consecutive days.
Apart from the physical challenge, one of the most difficult aspect of the trek will be the rudimentary conditions and basic accommodations. Indeed, don't think about having a hot shower every night ! The real challenge is not performance, but the capacity to last the distance, physically and mentally. If you are used to long effort and basic comfort, you will fully enjoy the landscapes you'll cross and the company of the other travelers with whom to share your GR20.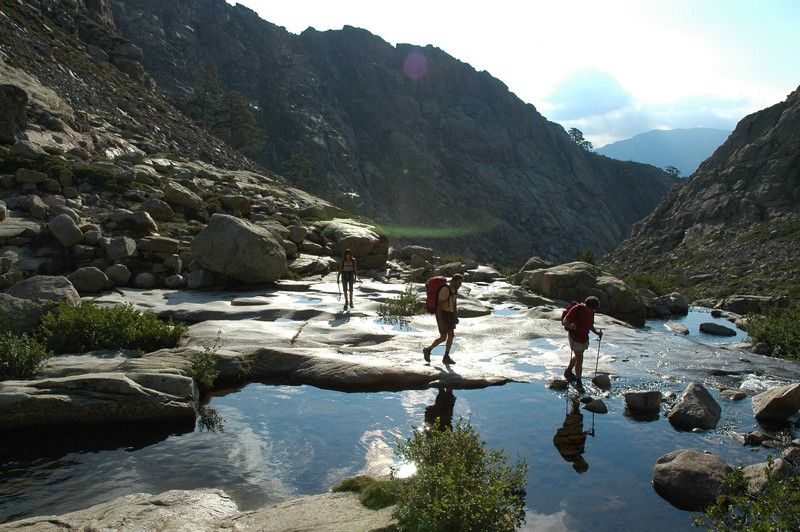 2 - Find your balance, between anticipation and letting go
Even if the GR20 is well-known and marked, this itinerary demands a minimum of anticipation and planning. It will enable you to better comprehend unforeseen events and manage them more easily. Paradoxically, being prepared often allows you to let go...
Making sure you have the right equipment and that you're physically prepared, being flexible and able to adapt are the best solutions to accept the possible contingencies.

Yes, it may be too hot, or too cold, there are insects everywhere, you don't sleep well... but you will also find calm and peace, starry skies and wonderful people on your way!

3 - Join a group
We are not all equals when it comes to facing difficulties and effort during a trek.
There is always the "last one" who does not feel up to the challenge, a "first one" who struggles to contain his/her impatience... but hiking in a group is a real strength.
We all have our downs, but we can all benefit from being tolerant and united. Those, along with a good sense of humour, are essential values to turn your GR20 into an unforgettable experience.

From now, you can start to form a group of really motivated hikers! A common error is to recruit members that don't have the required level for the hike: the brother-in-law who is just here to please the family, or your always complaining friend who did not have the courage to say "no" after some drunken evening...
Motivation is the key. This is what will help you conceal the difference of rhythm between the participants, or ease the tensions when needed. Finally, if you don't find any fellow hikers to come with you, you can always join an already existing group !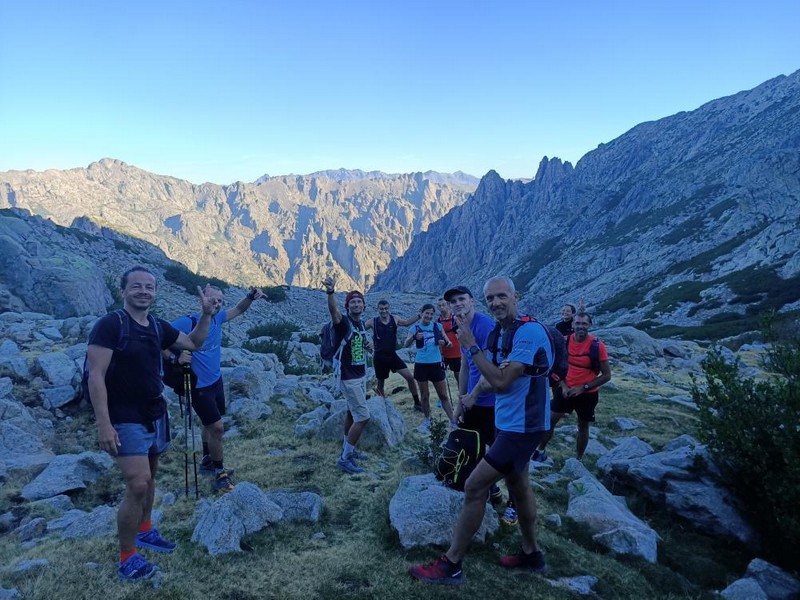 4 - Adapt to the terrain
Going on a trek on the GR20 means learning how to walk on different terrain, often rocky, sometimes steep... you need to be well equipped to adapt to these trails. Testing your equipment during your weekends is very important, especially your shoes: they have to be flexible and comfortable enough to support long hours of walking, but also waterproof in case of bad weather, and finally, solid enough to face the rocks.

Don't forget to test your backpack too: it must have padded and adjustable shoulder straps, wide lap and chest straps. If it is too large, you will tend to fill it with useless equipment. So limit yourself to 40 to 50L maximum if possible.

Hiking poles are obviously very useful to relieve your joints in descents and help you during the climbs. Get used to walk with them whenever you can.

Finally, your clothes must be light but also warm, breathable and comfortable.
Wearing several layers of clothes is the key: a tee-shirt, a fleece jacket or middle layer, a down jacket and a waterproof jacket. A last-minute check is always necessary: Couleur Corse / Discover Corsica will send you a complete check-list to make sure you did not forget anything important !


5 - Our final advice
Try to develop good habits when you go trekking ; these small hacks can really change your life, and preserve our nature and landscapes:
Make sure you have a couple of rubbish bags : you can use them to keep your belongings from getting wet, to pick up litter on your walk and for your toilet tissues.
Use a natural and biodegradable soap. Concerning shampoo, opt for a natural and solid one.
Take a microfiber towel ; it is more compact and quick-drying !
Do not forget your scarf: it will be your bestfriend again the wind, the cold or the sun ! Even in summer, bring your light gloves and beanie: weather can change from one minute to another, and most of your body heat escapes from your extremities.

Finally, there is nothing better than a pair of crocs or comfortable sandals to relax your feet after a long hiking day !


6 - Indulge yourself !
Going on the GR20 is far from innocuous... it is not simply a question of hiking from Calenzana to Conca, or to prove yourself that you are capable of doing it. As every trek, it is a fabulous adventure, a welcome return to simplicity and nature: a true therapy !