In the heart of the mountain village of Soccia, this tour is dedicated to the discovery of nature sports in Corsica: canyoning, river descent, hiking, climbing, treetop and more... An original way of discovering the "island of beauty" with your

LEVEL: Middle | DURATION: 6 days | AGE: children from 7 to 12 years old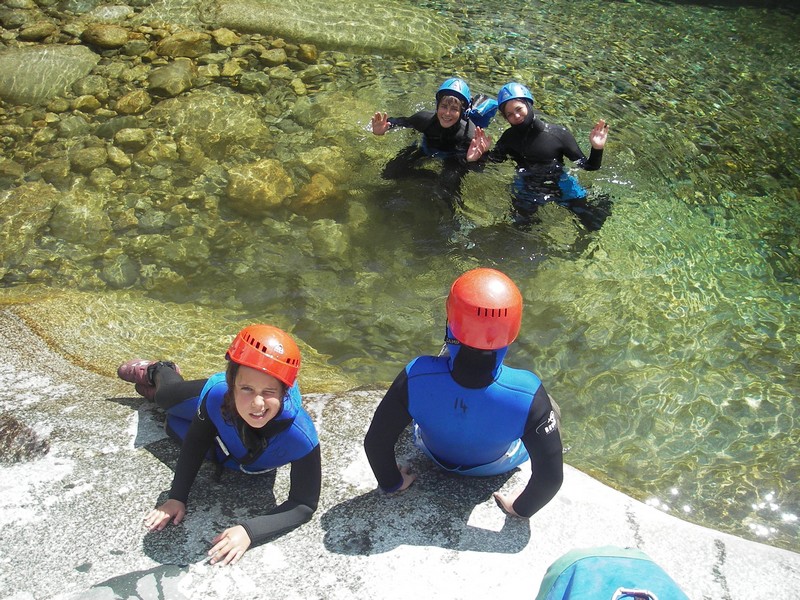 PROGRAM AND ITINERARY OF YOUR FAMILY TOUR IN CORSICA
Day 1 - Sunday : Introduction to climbing
Meeting with your guide in Porto in the morning. Our climbing spot is located on the beach and allows to combine introduction to climbing and swimming in the beautiful setting of Porto's bay. We drive to the village of Soccia in the late afternoon.
Day 2 - Monday: Canyoning
Canyoning in the wild and mineral valley of Fiume Rossu. After a short walk, we start our descent of the river: diving and swimming in the natural pools.
Day 3 - Tuesday: Hiking with donkeys
Pack donkeys accompany us throughout this day of hiking to the Lake of Crenu, the only wooded lake in Corsica. Picnic on the shady lawns and, for those who wish, climbing of Sant Eliseu: from there, a panoramic view over the main peaks of the island and the sea.
Day 4 - Wednesday: Canyoning
Canyoning in the Zoicu valley: jumping, swimming, toboggans and rappelling for a fun descent of this wild river.
Day 5 - Thursday: Hiking and orienteering
Orienteering in the village of Soccia. By team, the children discover the vestiges of the village and can take advantage of their new knowledge of Corsican nature... We finish the day with a short hike and a river swim around the village.
Day 6 - Friday:
Adventure Course in Vero
Departure on the heights of Ajaccio towards the Adventure Course of Vero. Everyone is equipped for an aerial walk from tree to tree. By the Tartavellu pass, we discover Corsica from the inside: picnic at the river and swim in the natural pools of Cruzini. In the late afternoon, we go back to Ajaccio.
PRACTICAL INFORMATION FOR YOUR HOLIDAYS IN CORSICA
PRICE:
725€ / adult
665€ / child (from 7 to 12 years old)
Guaranteed departure from 8 participants.
We can also organize departure for private groups.
ACCOMMODATION
:
Mountain hotel
GUIDING
:
By licensed monitors
DEPARTURE DATES:
Every Sunday from 7th July to 18th August
This price includes:
- Full boards
- Guiding by a licensed monitor
This price does not include:
- Local transfers (you need to have your own vehicle)
- Cancellation and repatriation insurance
- Beverages and personal expenses
OUR OTHER FAMILY HOLIDAYS IN CORSICA