At the heart of Corsican mountains, you will spend a whole week full of exciting outdoor activities: canyoning, hiking, bathing in rivers, climbing... An original way of discovering Corsica with your family!
LEVEL: Middle |DURATION: 6 days | AGE: children between 8 and 14 years old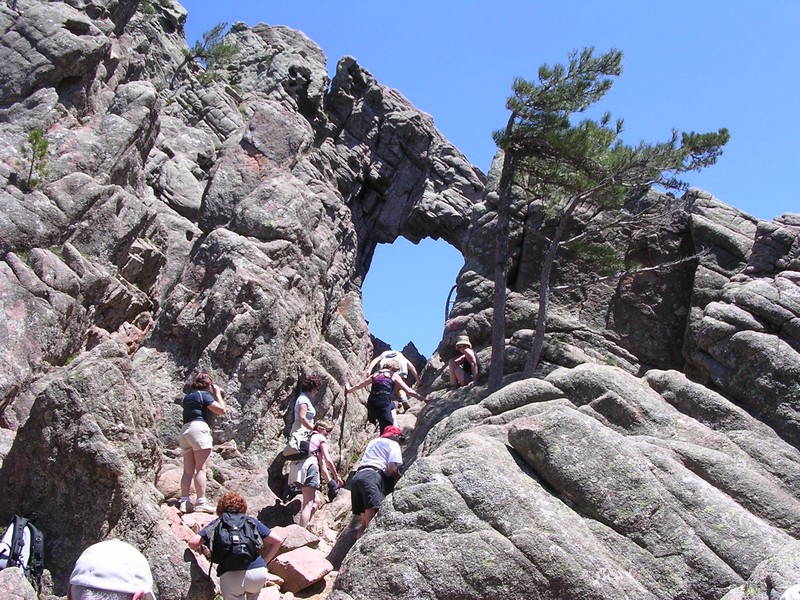 PROGRAM AND ITINERARY OF YOUR FAMILY TOUR IN CORSICA
Day 1 - Sunday:
Meeting in the village of Bocognano at 1:30 pm. Introduction to canyoning in the Richiusa gorges: well equipped with your neoprene suit, we follow the river. For you today:Diving, toboggans, tyrolean traversing and rappelling in a magical setting...
Day 2 - Monday: Introduction to rock climbing
Initiation to rock climbing at the famous rock of the Richiusa, in Bocognano. Picnic at the river.
Day 3 -
Tuesday
:
Hiking
Hiking in the Vizzavona forest to join the Palmento Pass. After a small slope in a fresh beech forest, we discover the sea and the oriental coast of Corsica.
Day 4 -
Wednesday
:
Canyoning
Hiking in the river in the small valley of Vecchio: hiking, diving, swimming, natural toboggans in this crystal clear and wild river.
Day 5 - Thursday: Hiking
Today we walk in the Manganellu river following the famous trail of the GR20. On the way, visit of the sheepherds' huts of Tolla and bathing in river.
Day 6: Friday: Adventure course in Vizzavona
Adventure course in the trees in Vizzavona: rappelling, tyrolean traversing... You can also enjoy a last swim in the river nearby in the afternoon.
PRACTICAL INFORMATION FOR YOUR HOLIDAYS IN CORSICA
PRICE:
725€ per person (adult) | 665€ per person (children from 8 to 14 years old)
The departure is guaranteed from 8 participants and for groups on demand.

LEVEL:
Middle

ACCOMMODATION:
In a mountain hotel

GUIDING:
By a licensed monitor


DEPARTURE DATES:
In July and August ; consult us.


This price includes:
- Pick up charge in Ajaccio
- Full boards
- All the necessary equipment
- Guiding by licensed guides and monitors

This price does not include:
- Beverages and personal expenses
- Lunch on day 1 and 6
- Daily transfers (you need to have your own vehicle)
- Cancellation and repatriation insurance


OUR OTHER FAMILY HOLIDAYS IN CORSICA