FROM SANDY BEACHES TO THE TOP OF MOUNTAINS


Corsica has 1000 km of coastline, with 200 km of sandy beaches, perfect for your relaxation. But what makes Corsica exceptional is that the island also counts 50 peaks over 2000 m, with Monte Cintu being the highest ones, at 2706 m.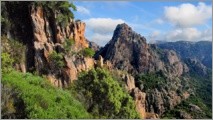 Deep valleys and picturesque villages clinging to the mountainside are certainly parts of the charm of Corsica. Rivers for swimming, scenic hiking trails... It is a wild and rough nature that allows a various range of activities. Canyoning has become very popular over the years, in addition to mountain hikes.
The whole island is only 183 km long and 83 km wide, which makes everything easily accessible.
MAINTAIN ITS HERITAGE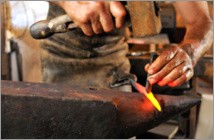 You may think these landscapes could have attracted unscrupulous investors, used to rob so many Mediterranean islands and shores of their original charm with heavy tourist resorts and big neon lights. But fortunately for us, it is not the case in Corsica. Indeed, the island has been preserving its natural and cultural heritage. It focuses more on family-run hotels, nature tourisme and active holidays. For the past few years, we also notice a resurgence of small companies making honey, chestnut products, wine and olives in addition to the artisants, who, among other things, make traditional Corsican knives.

THE DUST OF HOT MAQUIS
There is something about the scent that makes Corsica absolutely magical: rosemary, thyme and other herbs, heather, laurel... and perhaps the most chicory of all: murder and immortality! The aroma of warm maquis. You recognize it from early spring throughout all summer. Depending on how tall you are, you can find flowering shrubs and plants from February to September. Then, the blackberries are ripe and the chestnuts fall off on the ground. The best period is from early May to late September. Then, the weather is more stable and the temperature is best, both in the air and in the sea.