From Porto's gulf to the natural reserve of Scandola… There, you discover the true meaning of "Corsica, a mountain in the sea"
A trek in an UNESCO World Heritage Site. Hiking in Corsica has never been so beautiful.
LEVEL: Middle| SEASON: Spring, Autumn
|
DURATION: 6 days / 5 nights
|
PRICE
: 625€ /person
PROGRAM AND ITINERARY OF YOUR HIKE IN CORSICA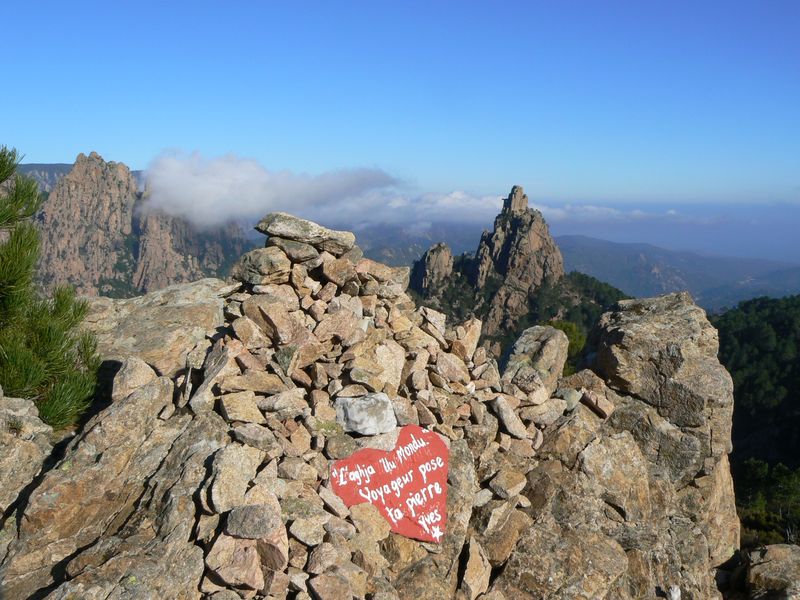 Day 1: Evisa - Ota
Meeting at the bus station in Ajaccio. The bus is leaving at noon, transfer to Evisa.
You go down the Gorges of the Spelunca by an old rocky path and arrive in the village of Ota.
Night at the lodge of Ota.
Day 2: Ota - Serriera
You walk up the ravine of Vitrone, where funny shaped walls stand out with the Mediterranean Sea in the background. After crossing the Bocca San Petru, you begin your descent to the village of Serriera.
Day 3: Serriera - Gradelle / Curzu
The path goes at the heart of the maquis to the villages of Partinello and Curzu. Then, on the edge of the Linu ridge, you overlook Porto's Gulf and the small fishing village of Girolata.
Night in Gradelle or Curzu.


Day 4: Gradelle - GirolataA day of resting after the long stages of the previous days. This easy hike allows you to join Girolata, enjoying the sea in exceptional setting. This village, only accessible by boat or by foot, is also the only safe anchorage for marines between Carghjese and Calvi!
Optional sea cruise in the Nature Reserve of Scandola
Night at the lodge of Girolata.

Day 5: Girolata - Galeria
You cross on the wildest place in Corsica, with only the maquis, granite and the sea on your way along this stage. This path, mostly on the edge of a ridge, offers you every type of landscapes you could see in Corsica.
Night in Galeria.

Day 6: Panoramic view over the Gulf of Galeria
Last hike above Galeria, towards the Punta Muvrareccia to enjoy a 360 degrees panoramic view. Transfer to Calvi in the late afternoon.

PRACTICAL INFORMATION FOR YOUR HIKE IN CORSICA
ACCOMMODATION:
Lodge or hotel (your choice)
GUIDING:
Self-guided
LUGGAGE:
Our team takes care of carrying your luggage between each accommodation. You only have your daily bag on your back.
DEPARTURE DATES:
From the 1st of September to 30th of June:
- Every Saturday: departure from Ajaccio at 12:00 am
- Monday to Friday: Departure from Ajaccio at 3:30 pm (attention: no hike on your first day)
Possible transfer by taxi in the morning: consult us.
From 1st July to 31th August: +30€ / person
- Every day: departure at 10:30 am or 3:30 pm
PRICE:
625€ per person in lodge / 725€ per person in rooms/hotels
This price includes:
- Full board from day 1 for lunch to 6 day after lunch
- Luggage transfers between the accommodations
- Transfers from and to Ajaccio
- A road book with IGN maps
This price does not include:
- Guiding by a local mountain guide
- Beverages and personal expenses
- Repatriation and cancellation insurance
- All that is not written in "this price includes"
____________________________________________
OUR OTHER SELF-GUIDED TREKKING IN CORSICA