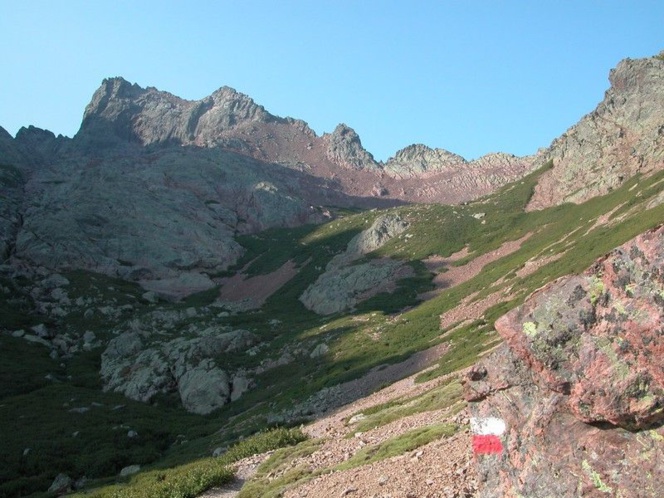 Self-guided tour. Walk on the GR20 at your own pace, with your family or friends and without a guide. There is no need to wear a giant backpack. Travel only with a small daily bag on your back. Discover Corsica has designed a comfortable GR20 that respects the path of the most legendary trekking experience in Corsica.

Attention: the GR20 is a very demanding itinerary. The self-guided version is only for experienced mountain hikers.

LEVEL
: Very hard |
SEASON
: Summer|
DURATION
: 6 days |
PRICE
: 690 € / person
Program of your self-guided hike in Corsica

Day 1: Tattone - Pietra Piana
Meeting in Ajaccio early in the morning. Transfer to Tattone. You walk up along the Manganellu River; plenty of bathing possibilities here. A last steep slope and you arrive at the small refuge of Petra Piana.
Night at the refuge of Petra Piana.

Day 2: Petra Piana - Vaccaghja
You first walk up to the Haute Route pass (2206m) and then you follow the edge that overlooks the Melu and Capitellu lakes. After the Bocca a e Porte notch (2225m), you go down a wild valley to the refuge of Manganu and continue easily to the sheperds' hut of Vaccaghja.
Night at the shepherds' hut of Vaccaghja.

Day 3: Vaccaghja - Vergio
You walk easily through a beech grove and reach the Ninu lake surrounded by green lawns. From the top of Capu a u Tozzu (2007m), you have a fantastic panorama to the Niolu valley and the next stages.
Night at the lodge Castel di Vergio.

Day 4: Vergio - Ballone
Change of scenery: you enter the volcanic massif "La Grande Barrière" and climb up the upper Golo valley until reaching the Col of Foggiale.
Night under a tent at the shepherds' huts of Ballone.

Day 5: Ballone - Asco Stagnu
An impressive and strenuous day in high mountains. You walk up the Crucetta valley to the top of pointe des Eboulis (2600m). Depending on the weather and the your physical shape, you have the possibility to climb the Monte Cintu (2706m), the highest mountain in Corsica.
Night at the lodge Le Chalet at Ascu Stagnu.

Day 6: Ascu - Bonifatu
A short but steep slope leads you to the Muvrella pass and you descend the deep Spasimata valley surrounded by sharp peaks. Some exposed passages on slabs are equipped with chains. You cross the famous Spasimata footbridge and arrive at the refuge.
Arriving in Bonifatu and transfer to Calvi.


Practical information


PRICE:
690€ per person

DEPARTURE DATES:
Every Sunday from 9th June to 22nd September
Possible departure on another day: consult us.

This price includes:
- Full boards, including snacks during the walk
- Local transfers
- A road book with IGN maps

This price does not include:
- Guiding by a local mountain guide
- Beverages and personal expenses
- Rapatriation and cancellation insurance
- Tranfers that are not on the program
- All that is not written in "this price includes"

OUR OTHER SELF-GUIDED hikes IN CORSICA