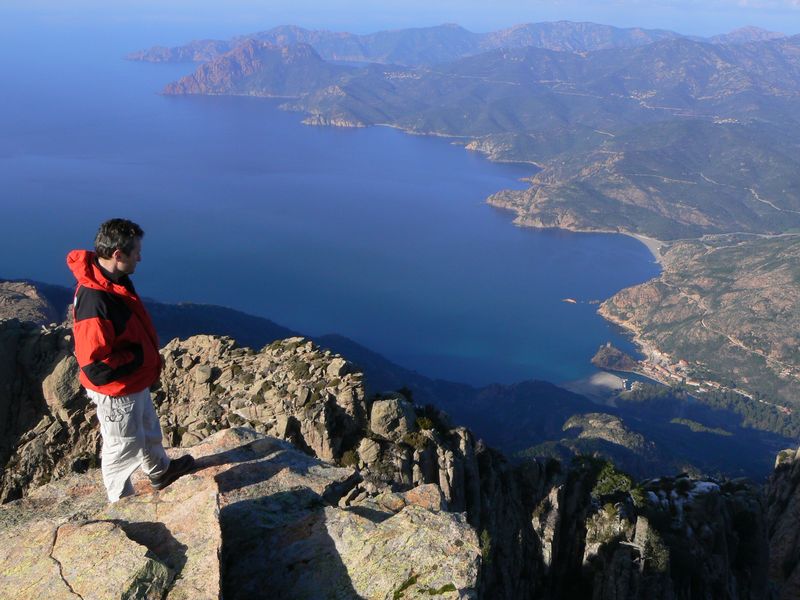 Our guided tours (see list below) are not just for those who do not feel confident about mountain orientation. The tours are also suitable for anyone who wants to experience something extra on their hike in Corsica, through the knowledge of our local mountain guide.

Note that our tours are "open", meaning that you will be with other travelers, most often from French-speaking countries. Thus, your guide will speak both in French and in English for everyone to understand.
The guide is responsible for all the logistics during the trip. In addition, he ensures that you are safe on the difficult stages of your trip. He also controls the situation and is formed to make the right decision in case something happens (bad weather, incident, accident, etc.).

The guides of Discover Corsica / Couleur Corse are experienced and, in addition, friends of us who share the same vision of what is a good quality guide in the mountains.

He/she is not like a conductor who always walks ahead to determine the speed, what is interesting to see and to know. On the contrary, he/she is entirely part of the group: he/she talks to all the hikers in the group, taking care of their needs, asking what they are wondering about or what they are interested in.

He/she has in-depth knowledge of the terrain; thus, he/she has a good balance between safety and respect for what the hikers want to do. When the terrain allows it, he/she can give those who want to go a little bit faster the opportunity to do it, but always after agreeing on where to wait for the others. When the terrai is more difficult, or the path becomes complicated to follow, he/she goes ahead and helps those who need it.

Finally, the guide also takes you off the beaten path, often to climb a summit or to find the "perfect" picnic spot by a river. Everyday, he/she takes out goodies from "the magic box" to make a delicious picnic: cured meats, tapenades, patés, pasta salad, Corsican cheese, fruits, and more...
OUR GUIDED TOURS IN CORSICA