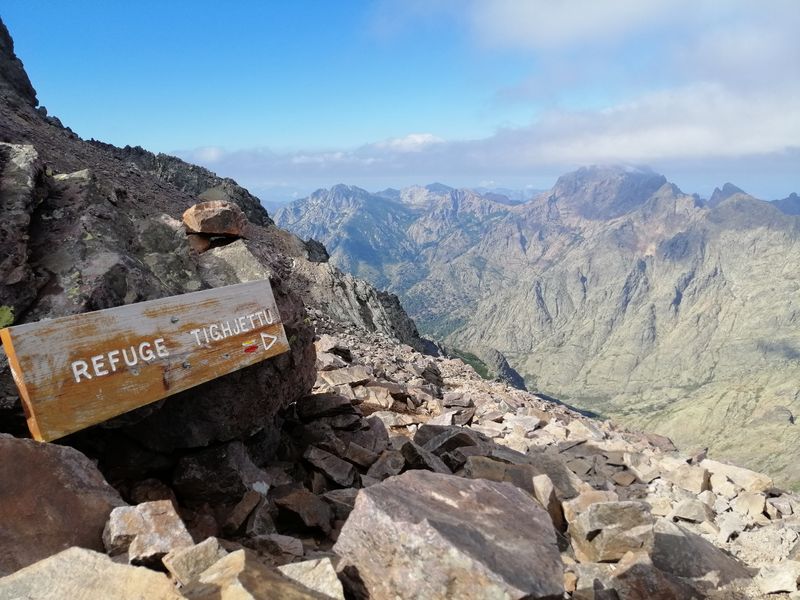 "The toughest hiking trail in Europe"
Before getting to the heart of the matter, let's talk about why this itinerary is particularly difficult, even for experienced hikers:
The GR20 trail is like no other ; the path is rocky, steep and streneous. Hikers are not always used to walk on those kind of terrain. It's crossing the Corsican mountains, without taking old mule paths: pile of fallen rocks, flagstones, scree... It is not easy to be comfortable on a terrain like this. Off-trail hiking experience is clearly a plus.
The stages are long, and the accumulation of hiking days can be hard to handle. It takes normally 16 days to complete the trail, if you decide to do one stage per day. Practicing endurance sports like running or cycling on a regular basis can be a good training.
The accommodations along the path are old and rudimentary. Don't expect to have comfortable beds and a hot shower every night. You will be sleeping mostly under tents (perfect for looking at the stars...), whether it is pouring rain or not. The sun rising early in the morning, a neighbour who's snorring too much... Whatever the cause is, the lack of sleep can impact both your mental and physical conditions. But it is part of the adventure, right ?
"You have to lighten your bag as much as possible"
Now that the stage is set, let's talk about your backpack.
"Can you please take my bag for me?" That's another way to say "oh my god I cannot do this anymore, please help me". So whenever you go on a hike, put a 8kg bag on your back, and try to hike as much as possible with it. Because even though you have a luggage assistance in most of our tours, you will only have access to your extra luggage every 2 or 3 days on the GR20. Beware of the weight of your bag. You have to try to lighten your bag as much as possible, and limit the extra (and often unnecessary) material: please avoid taking your complete collection of leggings or your Lord of the Rings trilogy... Watch again the "Wild" film instead, and invest in light and efficient material.
To conclude, a good preparation also rhymes with relaxation! If you put too much pressure on yourself, you risk being exhausted before beginning the trek, but above all you will miss the whole point of your trip: to enjoy the adventure! No matter what your method is (yoga, knitting or home brewing), don't forget to take a break from time to time.

Do not be too hard on yourself or feel guilty if you don't manage to tick all the boxes on your training list. Do the best you can, with what you have !